Commercial Solar Power Systems
Commercial solar solutions are a smart investment to lower your tax liability, reduce your operating expenses, and achieve your sustainability goals. An investment in commercial solar power provides a strong internal rate of return (IRR) and a more favorable payback period (ROI) than most residential systems. Your facilities' rooftops can be used for generating passive income and many other benefits for you rather than keeping it idle.
Reduce operating costs.
Ensure financial stability.
Enjoy energy efficiency.
Decrease carbon footprint.
Save during tax time.
Add value to your business.
Foster employee pride.
Demonstrate social responsibility.
Limit the effects of climate change
Encourage global sustainability
Eco Smart Offer Comprehensive Services
Eco Smart offer comprehensive solar solutions and complete project management services. Our services include site survey, engineering design, permitting, feasibility study and financial modeling, implementation, monitoring and maintenance. Eco Smart supports your green business goals and keeps your solar investment running optimally.
Every home should have access to clean powered energy at an affordable solution. Our team works with you every step of the way providing you with exceptional designs and the best solar solutions available. We make sure that your facility is a high-yield investment that will benefit you financially for years to come.
Send us your info.
We will contact you to schedule appointment
We will understand your needs and do the site survey
You will get our proposal with system details and options if needed
Eco Smart enables our customers financing solutions for commercial and industrial entities so that Eco Smart customers can enjoy the many benefits of solar power.
Solar Energy Financing has two main financing options:–
1. CAPEX model.
2. OPEX/PPA model.
Eco Smart offers these two models depending upon the needs of customers.
Any business that can make the upfront investment in owning a solar power plant can go for a Capex model. An Eco Smart Capex model investment has a premium potential sustainable solution which result in a payback of 5 years and you could use solar power another 30 plus years.
Basic feature of CAPEX Model is client incurs all the project cost upfront.
Within CAPEX, Customer can finance the solar power plant in two ways:
Upfront cash.
Mix of cash and cash.
Banks offer up to 60-80% of solar plant cost as a loan.
Benefits of CAPEX with Eco Smart
With Eco Smart, in-terms of benefits, Customer enjoys all the benefits from the installation of a solar power plant. Benefits come in two ways:
1. Project Life Cycle Support
Yellow Haze functions not just as supplier but as project partner guiding the consumer through the various stages during the project cycle. Apart from Engineering, Procurement & Commissioning (EPC), Eco Smart support through the various stages, on right sizing the project, financing, O&M support post the contract period. 
Eco Smart has strategic partnerships with solar component manufactures and leverage in procurement which translates to lowering of EPC costs, resulting in better quality & optimized costs. Our dedication to solar power production in last 15 years has brought in specialization of these processes; as a result, your plant is always maintained at optimum performance.
With Eco Smart, in-terms of benefits, Customer enjoys all the benefits from the installation of a solar power plant. Benefits come in two ways:
1) Higher Savings: In Capex Mode, the client does not have to pay any tariff and hence, there is considerably higher electricity cost savings.
2) Short Payback Period: Investment on Solar Power Plants (particularly rooftop) has attractive payback period of 3-5 years.
3) Accelerated Depreciation: Investment on Solar power plants is also subjected to accelerated depreciation which is an added incentive.
4) Smart Add-ons: We offer smart add-ons on the project based on client requirement, including:
• 24*7 Real Time Remote Monitoring
• Flexible O & M Support contracts.
• Additional Performance Guarantee in terms of unit production.
In CAPEX model Solar Power System would be your own system. And you will get many benefits for next 30 plus years. If you are planning to install solar for your business and your instillation size is less than 100kW, the ideal choice is Eco Smart CAPEX model. Contact us today!
Eco Smart offers Engineering, Procurement and Construction (EPC) Solution
We at Eco Smart provide highly reliable solutions to fabricate large scale network associated solar power plants for industrial and commercial applications. We offer EPC with world class project management methods to convey high performing networks on the ground.
Our unique approach to solar project development can help you save time, money and achieve sustainability of your projects.
Eco Smart has the ability to make assessment of each Solar Power site and deliver projects on-budget and on-time with our immense experience of providing global EPC services.
We analyze the metrics as follows:
Project goals and resources
Solar power potential
Load analysis v/s utility
Energy consumption criteria
Regulatory guidelines
The essential step in obtaining sustainable solar energy is having a solar feasibility study done for the viability and profitability of the project.
From our Eco Smart assessment, we advise you on critical variables like:
Solar Power Potential options
Estimations of Solar Energy productivity
Project execution costs and timelines
Viability of short-term and lifetime savings
Project ROIs and payback periods analysis
3. DESIGN AND ENGINEERING
Eco Smart designs solar power projects to maximize electricity yield and minimize systems cost. Having engineered several Solar Power plants following industry best practices and designed hundreds of solar power systems, Eco Smart is able to provide global customers with complete system design and engineering services sustainably.
Optimize Solar Energy Configuration
Consider unique needs of project
The project's location
The site's solar potential
Efficiency and consistency
4. SOLAR POWER INSTALLATION
Eco Smart is a full team providing solar power installations locally having deep ties with regional solar industry experts and sub-contractors. Our EPC services along with the PV installation, include the following services:-
Handling of permits and regulatory approvals
Procuring materials and inventory management
Coordinating with utilities for grid connections
Applying for accreditation and incentives
Integrated planning, scheduling and execution
Post Commissioning Management (O&M)
SOLAR OPEX / PPA SOLUTION
Solar Power is an eco smart solution reducing carbon footprint and avoids thousands of tons of carbon dioxide emissions. Solar power solutions support environmental sustainability commitments, in line with government renewable energy targets. Eco Smart enables our customers financing solutions for commercial and industrial entities so that Eco Smart customers can enjoy the many benefits of Solar Power.
With Eco Smart OPEX / Power Purchase Agreement model, our customers generate electricity utilizing unused space. The customer pays for the power generated under a long-term power purchase agreement (PPA) at an agreed tariff for a fixed tenure and the power is significantly cheaper than grid power. The company enjoys considerable risk-free savings as there is no investment and no associated performance risks.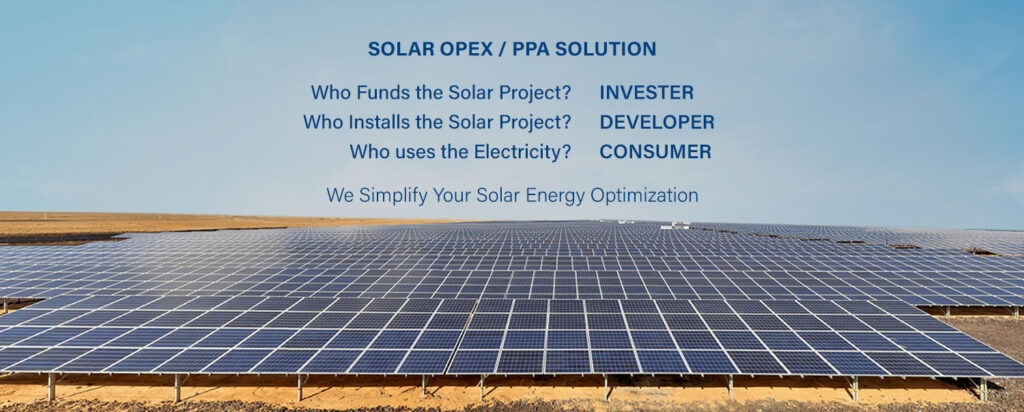 Environmentally friendly.
Utilization of unused space for installation of solar panels.
No Setup and no maintenance costs.
Own the Solar PV System after the contract.
Increase the value of your asset
• Long term savings
• Easily transferable
• Option of a buyout anytime as per preset clauses
• Extra savings in the case of net-metering
An eco smart OPEX (long-term power contract) or Power Purchase Agreement (PPA) is a great option for businesses considering solar power. There is no upfront cost; no maintenance cost and net savings are achieved from the first month of operation. The client company can focus on their core business. If you are planning to use solar for your business and your power consumption is more than 1000 kW, the ideal choice is the eco smart OPEX model. Contact us today!